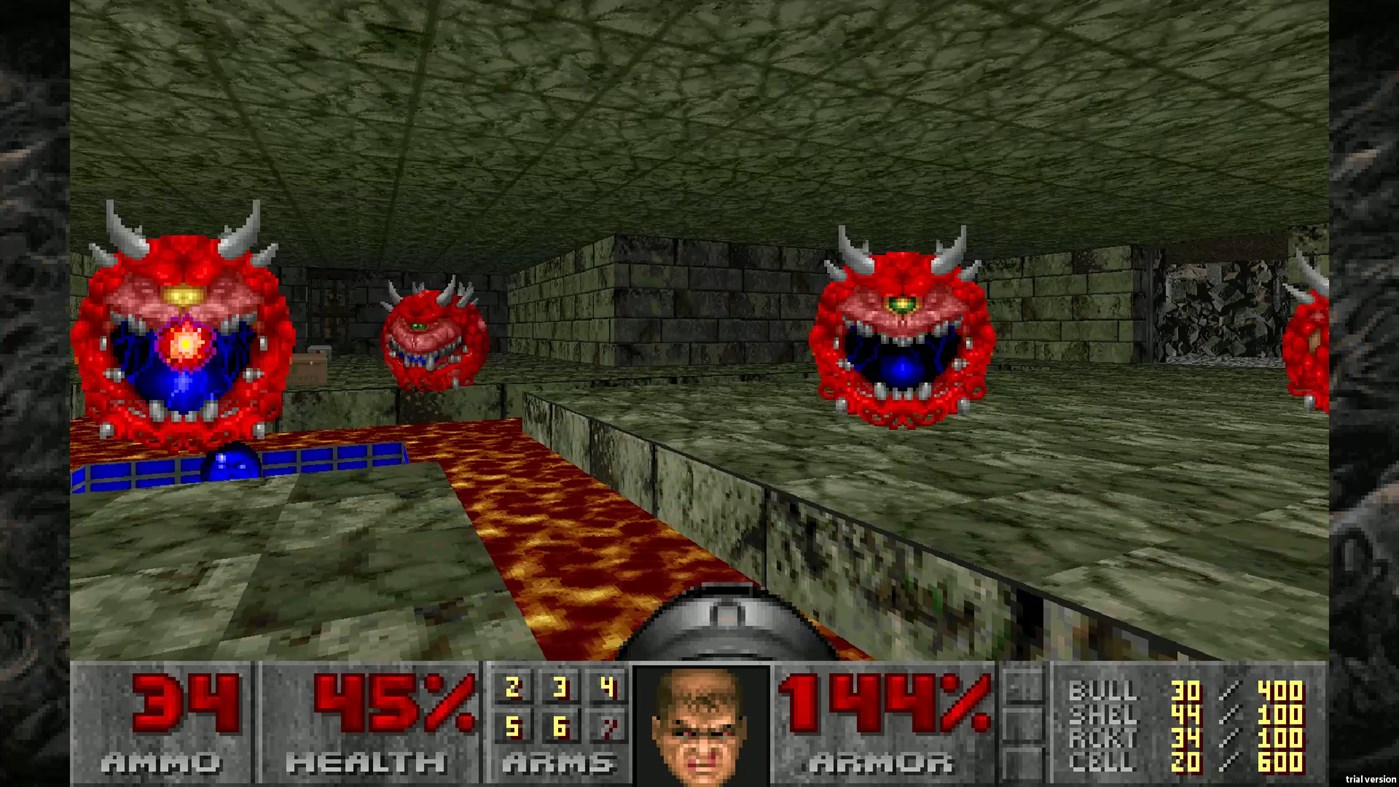 It's time to go back to where it all began. Widely praised and recognised as the genesis of the first person shooter (FPS), Doom has a huge fan base and is seen as a true classic in the gaming world. In fact, just approaching a review of such a big game is quite intimidating in itself. But hey, I'll give it my best shot. So, just exactly how does the game stack up more than a quarter of a century after its original release?
Now, before you get knee deep in demon guts, you'll need a Bethesda.net account to play. It's quick and free to sign up, and once you have signed in it will link to your Microsoft account for automatic login going forward.
If you've played Doom before, you'll immediately be hit with a wave of nostalgia with Doom (1993). This is thanks, in part, to the demon slaying action playing out behind the menu screen. If you haven't, I'd be very surprised if you aren't somewhat familiar with what you are seeing. I'd actually be borderline disappointed with you.
When you've chosen your chapter and difficulty, it's time to play. You'll be reminded of just how old Doom is when you realise you can't jump or use the right thumbstick to look up and down. Thankfully, regardless of how high a demon is, shooting in their direction will still damage them. There's one line of vision here, and it's mostly filled with the spawn of hell.
You do have a map at your disposal which is brought up by pressing Y, but it's a bit of a mess to tell the truth, and instead it's much more fun running around the corridors and exploring for yourself. The A button is "use" and you can use the left thumbstick or the D-Pad to move around. The LT is used to sprint and it's nice to see a proper pacey run, just like the good old days. Pressing the RT will shoot, and the bumpers are used to cycle through your weapons. Your stats are displayed along the bottom of the screen, along with some lovely animations of your reactions to the action unfolding around you.
Doom (1993) will have you sprinting down corridors, collecting plenty of pickups and rather pleasingly bobbing up and down as you run around and generally cause mayhem. Your aim is to kill everything in sight; it's simple really. Enemies will also take damage depending on your proximity to them, which is another little attention to detail which makes Doom so enjoyable to play. If you're skilled enough, you'll be picking off multiple enemies at a time with more powerful weapons such as the shotgun, or by using explosive scenery to your advantage. Just be careful in tight spaces, as rogue barrels can prove fatal. You'll also have to keep your eyes peeled to find all the secrets hidden in each level, which are mostly very well hidden, while the powerup orbs dotted about can make all the difference in the larger scale battles.
At the end of each level you'll see how well you did, and where you're headed next. There are four chapters here to shoot through, which should keep you entertained for a few hours. Doom sets its stall out from the very beginning, and makes it very clear what the game is all about. It's simple, enjoyable gameplay that some may find repetitive, however Doom is not trying to please everyone.
The last is the expansion "Episode IV: Thy Flesh Consumed", which consists of nine additional action-packed levels. As well as this, new for this release of the game, comes four-way local co-op and deathmatch multiplayer modes. All this for a modest £3.99, and no matter what you are thinking, you can't say fairer than that.
You can also activate a variety of cheats at any time you wish, such as "Invulnerability" or "God Mode". Beware however, that if activated, you'll earn no achievements, which is pretty fair really. Don't forget to save your progress too, there's no autosave here, just good old fashioned manual save slots.
Doom (1993) on Xbox One looks great, considering it's 25+ years old. The simple yet gloomy and industrial setting is perfect, and creates the optimum atmosphere for demon slaying aplenty. Despite there being limited enemy types and sound effects, this doesn't dampen the action too much, and as soon as you begin, the unmistakable riff of the main theme kicks off, and sounds just as good as it ever did. Overall, Doom has aged really well – like a fine wine, except with a lot more shooting demons in the face.
Doom remains a classic and is still immensely playable. It may have a few rough edges, and be a bit too simple for some, but overall it has stood the test of time well. If you haven't experienced it yet, what the, er hem, hell have you been doing?